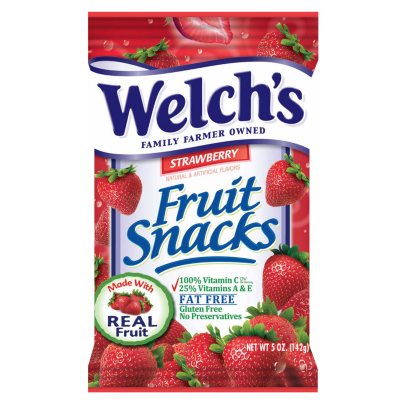 Welch's® Fruit Snacks are Fat Free, Gluten Free, contain No Preservatives and provide 100% of the recommended daily value of Vitamin C and 25% of Vitamins A and E. Welch's® Fruit Snacks are sure to delight your family with the 11 different varieties, delicious taste and quality that can only be Welch's®. For more information, please visit www.WelchsFruitSnacks.com.
National Strawberry Day is annually celebrated on February 27th. Strawberry lovers everywhere enjoy this day as strawberries are appreciated for their characteristic aroma, bright red color, juicy texture, and sweet taste.
Strawberries are enjoyed by millions in many different ways. They can be eaten fresh by themselves, in fruit salads or in prepared foods such as jams, preserves or juices. They are also favorites when added to smoothies, pies, cakes, ice creams, milk shakes, salads and chocolates as well as many other delicious dishes and desserts. Artificial strawberry aroma is used in many industrialized food products.
The first garden strawberry was grown in France during the late 18th century. Prior to this, wild strawberries and cultivated selections from wild strawberry species were the common source of the fruit.
Along with enjoying the delicious taste, eating strawberries gives you the benefit of adding the following into your diet: potassium, fiber, folic acid and Vitamin C. They are also low in calories, with no fat and no cholesterol.