Alphabet Photography
is the work of Jennifer Blakely. Jennifer and her husband Sam run the business together, along with a few other members of their close-knit team.
Jennifer traveled through out Canada in 2006/2007 with one goal in mind; to collect a complete gallery of photographs that resemble the letters of the English Alphabet. Her photographs are all in natural surroundings that are un-staged.
After collecting photographs for two years and growing the business, Alphabet photograph is now a successful trademark in Canada, the United States and the United kingdom.
The photographs are amazing! I am always in awe of people who can see art in everyday surroundings, as I love photography myself. It takes a gifted person with a very good eye and that is exactly what Jennifer brings to her art.
You can create your own framed name or you can choose from of their inspirational letter art for your home or for a unique gift. With a selection of 500 photos you will surely find the perfect framed piece.
Alphabet Photography offered to send me the 'Love' Inspirational Frame. I was simple in awe with the photograph and the quality of the framed piece. As soon as I opened the package I had to put this up in my hallway. It's truly breath taking!
Alphabet Photography - Inspirational Series - Love.
Quote 'There is only one happiness in life - to love and to be loved' - George Sand
* Printed on Professional Grade Crystal Archive Photographic Paper, mounted on wood, framed with a black high quality wood frame.
* 15 x 13 inches
* $45.00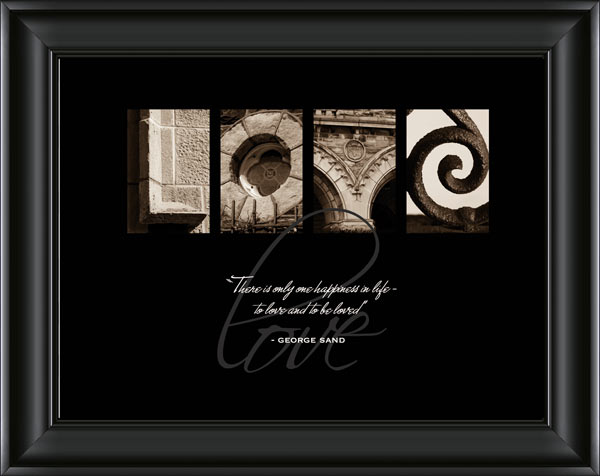 I would rate the work of
Alphabet Photography
5 out of 5 stars!!